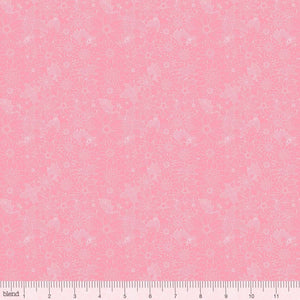 7 yards avaialble. Discontinued and Blend has gone out of business due to COVID-19.
This blender looks good with Junglemania as well.
New additions to the best-selling collection from artist Mia Charro, More Floral Pets features all the original, flower-filled patterns plus new panel designs of our beloved best friends. In rings of flowers, these precious puppies and cherished kitties along with dainty blossoms and fetching fruit are perfect for your next sewing projects.
🛒 You can change the quantity in the cart to add more than 1 of the same cut length IF you do not click Paypal or other method of payment on a product page. Only choose method of payment at checkout. This is an odd Shopify thing.
Collection: More Floral Pets
Print: Sigrid in Pink
SKU: 129.101.04.3
Designer: Mia Charro
Released: December 2019
Manufacturer: Blend (now out of business) 
100% Quilter's Weight Cotton
43"/44" width
Machine wash cold. Tumble dry low.

Sold in cuts with a rotary cutter. If more than one is requested it will be cut in one continuous piece. Example: for 1.5 yards, add 1 yard to your cart. Then go back and add 1 half yard to your cart. Coordinating prints are usually available.
Choose your length in the drop-down menu:
✂️Fat Quarter 18" X 22"
✂️Quarter Yard 9" X 44"
✂️Half Yard 18" x 44"
✂️Yard 36" X 44"
~SHIPPING INFO:
📦 USA: up to 2.5 yds. will ship First Class.
2.75-9 yds. will ship Priority Flat Rate Envelope/Padded Envelope.
10-18 yds will ship Priority Flat Rate Medium box.